Corporate Volunteering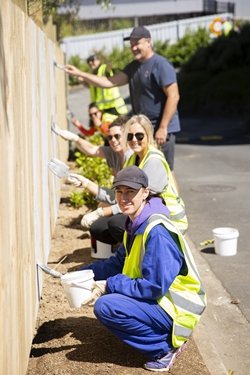 Corporate Volunteering is an opportunity for your business to develop team, personal and professional skills while making a valued contribution to the community.
Many employers in the Waikato region are already running corporate volunteering programmes. They promote volunteering and encourage their staff to get involved.
In your own company there will be staff members who are volunteers. Have you recognised their contribution to society? Would you like to encourage other staff to get involved?
How can we help?
Volunteering Waikato can provide a range of group volunteering opportunities to meet the needs of your team. Whether you want to plant trees, help at a special event, paint a building, or provide other support for a community organisation – we can help make it happen!
Who do we work with?
During the past year Volunteering Waikato has facilitated volunteering projects for the following businesses:
Fonterra
Hamilton City Council
ANZ Bank
Southern Cross
Deloitte
Spark
FMG
Westpac
ASB Bank
Genesis Energy
AON
AMI
IDEXX
Chorus
Rototuna High School Staff
Dairy NZ
Stride Property
Advice First
Norwood Farm Machinery
Pinnacle
NZI
Beca
Earthquake Commission
ACC
First Credit Union
Te Ao Marama School Staff
Ministry of Social Development
Greenstone Group
Kiwi Property Ltd
"We all had a great day at the Kaumatua Olympics yesterday. Organisation of the event was amazing. For all the volunteering I have done over the years, this is the most organised one I have been to. Went off without a hitch!" Heather Longmuir – Southern Cross
"Thanks so much for the opportunity, we all had a great time, both at Hospice and their Garage Sale. Glad we could do a little something to help out." Lydia Mannell – Fonterra Farm Source