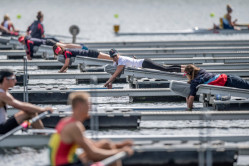 Boat holding is a very important task at a regatta. Boat holders hold onto the stern tip of the boat to keep it from drifting away. The other job of the boat holder is to move the boat in and out according to the "aligner" (person to the side on shore that makes sure all the boats start evenly) commands. Full training will be given on site. This is a great opportunity to be part of a regatta and see some rowing in a spectacular setting.
Requirements:
• Helpers need to be: disciplined, focused, responsive to instructions
• Helpers need to be reasonably mature and physically capable. They will be holding heavy boats whilst lying down, moving slides, unsteady footing
• Helpers will be working in a time critical area, it could be a long, hot day, it is a quiet zone and a good demeanor is a must, including remaining stationery until all crews are out of the 100-meter area.
TASKS
• Hold boats at end of the slide. This involves holding the sterns of the boats at the start line. The boat holder is lying flat on their stomach with their arms hanging down – holding onto the stern of the boat.
• Operate slides on aligners instruction
• Rope holding if weather requires
Assist start team with:
o Mats, lights, speakers, ropes, lane numbers
o Set up at start of day and pack up at end of day
WHAT TO BRING
• Clothing for all weather conditions - which can range from very hot to wet and windy. Closed toe shoes are required.