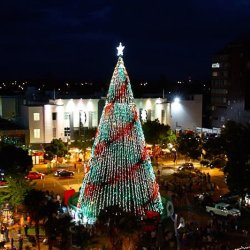 It's just like your tree at home... only bigger!
Volunteer to help with the installation of New Zealand's largest Christmas Tree. Your team will be helping to get branches from the storage containers and fluffing them so when the rigging team hang them on the frame there are no gaps. On site training on how to fluff will be given.
This role is a fairly flexible one - volunteer for a 3 hour shift (the minimum}, a whole day or even multiple days if you are really keen! Hours available are between 9 am and 3 pm - this is an outdoors role.
Currently the Christmas Tree Build will most definitely be going ahead in any level up to and including L3, following appropriate Covid-19 protocols.
Requirements:
A basic level of physical fitness is required as you will be lifting branches (not heavy) and standing for a reasonable period of time. Closed toed shoes are required. Gloves are recommended, as is wearing long sleeves. Hi viz and hard hats and sunscreen are provided. Refreshments (water, tea, coffee) are also provided.
You need to be aware you are working with a range of contractors on site and two working booms - so a level of noise and, if the wind blows in your direction, a little whiff of diesel fumes. Our site is a condensed one - busy and fun!
You will be working in a public space, so if you want to wear you have branded clothing this is a great opportunity to wear it and raise your profile in the community.