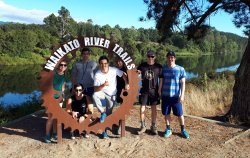 The Waikato River Trails is creating access for walking, biking and tramping along New Zealand's longest river - the mighty Waikato. The trails cover about 100 km of previously inaccessible Southern Waikato land and the Waikato River Trails Trust actively manage the river margins - as custodian of over 100km of the River they plant over 13,000 native trees each year, benefiting native flora, fauna and the biodiversity of the area. There are a wide range of jobs that may be available depending on the season, and could include trail maintenance, weed removal, planting (late April/May to September) or native tree releasing. Transportation to the site you will be working at may be available for groups of 10 or less.
Please note**** this opportunity is unavailable during the Christmas/New Year holiday period, but will be back from mid January in 2022. Please enquire for dates.
By participating in this volunteering opportunity you are helping achieve the following United Nations Sustainability Goals ;
Goal 3 - Good health and well-being
Goal 6 - Clean water and sanitation
Goal 11 - Sustainable cities and communities
Goal 13 - Climate action
Goal 14 - Life below water
Goal 15 - Life on land
Requirements:
Due to the nature of the role some level of physical fitness is required. Ability to take instructions and happy to have a go and do physical work. Appropriate clothing and footwear (closed toe shoes) for the conditions. A water bottle is a good idea.